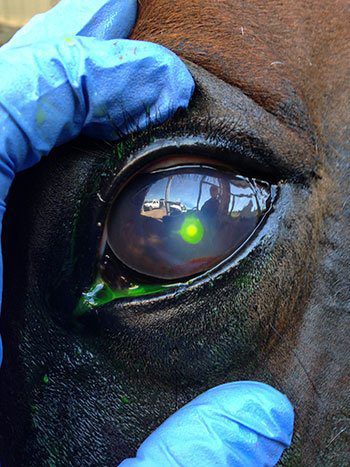 It's an eye emergency! Call your veterinarian immediately. Any instance where your horse's eye is swollen, cloudy in appearance, squinting, tearing or showing a narrowed pupil could indicate an infection or injury.
A swollen eye can be incredibly painful to your horse and obstructs their vision. If veterinary attention isn't sought immediately, even a minor injury, such as a grass seed near the globe, can quickly lead to permanent loss of sight or even the loss of your horse's eye.
The horse's eye is a beautiful and complex structure, allowing them to see almost 360 degrees around them. Vital to their vision and thus, performance, any injury or infection involving the eye is considered an emergency requiring immediate veterinary intervention.
A swollen eye could be caused by a number of factors. The most common include:
Corneal ulcers
Foreign bodies
Uveitis
Stromal abscesses
However, the list of possible causes is endless.
If you find your horse with a swollen eye, the first essential step is to call your veterinarian. They'll talk you through any steps you should take on your own. Most often, your veterinarian will ask you to keep your horse calm and prevent them from rubbing their eye.
Once your veterinarian arrives to examine your horse, they'll be able to give you a more definitive diagnosis and treatment plan. For example, corneal ulcers are often treated with topical antibiotics and anti-inflammatories, whereas foreign bodies require removal, followed by routine flushing of the eye and antibiotics.
Consulting your veterinarian is the best way to give your horse the best possible outcome. If you try to treat your horse's eye on your own, you may cause further damage. Even if the injury or in- fection appears minor, a phone call to your veterinarian will provide your horse with the highest chance of a full recovery.
Do you want to learn more about your horse's health? Click here to subscribe to our free fortnightly educational reports.