Horse Skin Care for Horses in Brisbane, Ipswich and Lockyer Valley
 There are many skin conditions that may affect your horse.
Most commonly, skin conditions are caused by allergies, infections, abnormal reactions, hereditary factors or neoplasia (cancer).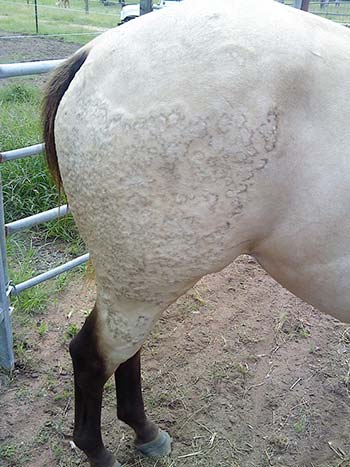 While some skin conditions can be treated topically, any skin condition that is fast growing, sore to the touch, reddened, bleeding or near vulnerable areas should be seen by a veterinarian. A veterinarian will be able to recommend the most effective course of treatment.
Causes 
There are many factors that can cause pain, inflammation or irritation to your horse's skin.
The most common causes are:
Allergic reactions
Bacterial infections
Fungal infections
Abnormal reactions
Hereditary conditions
Neoplasia (cancer)
Signs & Symptoms 
If an unusual skin condition develops on your horse, monitor it for several days. If it isn't causing your horse discomfort and appears to be decreasing in size, it may resolve itself in time.
However, you should call a veterinarian if it's:
Painful or itchy
Bleeding or discharging
Increasing in size
Spreading further
Not responding to treatment
Or, if your horse is lame, lethargic or unwell.
Treatment Options
 If you're unsure of the cause or your horse isn't responding to topical agents, the next step is to involve a veterinarian who can make a definitive diagnosis.
Once the caused is identified, usually with a biopsy, treatment involves administering medications. Some skin conditions will appear as lumps or bumps which may require surgical removal.
Your Next Steps
If your horse has a skin condition that isn't responding to topical treatment, call us on (07) 5411 4554 to speak with a qualified veterinarian. For after hours emergency assistance, call 07 5411 4554.