Vet Consultation at the Clinic for Horses in Brisbane, Ipswich and Lockyer Valley
Located in Hatton Vale, our practice services horses within a 50 kilometre radius, including the Lockyer Valley, Ipswich and Brisbane regions.
Offering high quality equine veterinary care to pleasure and performance horses of every age and breed, we most commonly treat colic, wounds, laminitis, equine metabolic syndrome, equine cushings disease, eye, skin and hoof problems.
Our services include:
General health checks
Dentistry
Wound care
Vaccinations
Nutrition and diet advice
Lameness evaluation
Digital radiography (x-ray)
Ultrasonography
Nerve and joint blocks
Flexion tests
Platelet rich plasma (PRP) therapy
Mare fertility evaluation
Stallion fertility evaluation
Artificial insemination with chilled semen
Artificial insemination with frozen semen
Foaling down
Semen collection
Semen storage
Semen shipping
Castration
Micro chipping
Freeze branding
Faecal egg counts
Pre-purchase examinations
Insurance examinations
Overnight care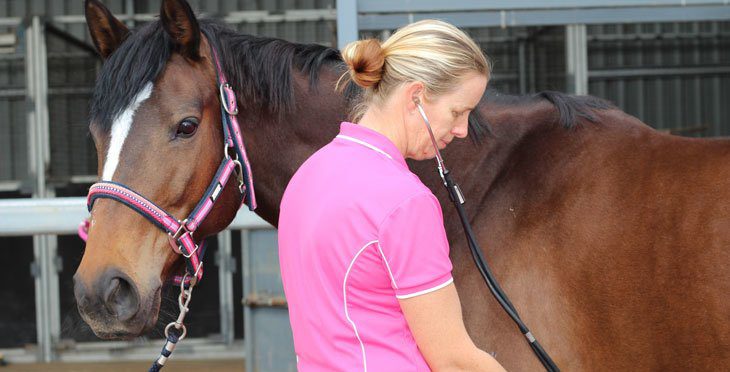 Open 8.30am-5.00pm Monday-Friday, our staff are available to answer any queries you may have about your horse's health and veterinary care. Call us on (07) 5411 4554 or call in to 41 O'Shea Road, Hatton Vale.
Our purpose-built facilities include:
3 stables for Hospital Care
30 day yards
2 Foal Down Yards
3 Stallion Yards with 4 Rail Cattle Rail
All Fencing is Cattle Rail
Mobile digital radiography
Mobile ultrasonography
Lameness evaluation centre
Fertility evaluation centre
Equine breeding centre
Semen storage
Semen shipping
Foaling yard
Mare yards
Phantom mount
Staff vehicle
Mobile crush
Your Next Steps
To discuss vet consultation at the clinic, call us today on (07) 5411 4554 to speak with a qualified veterinarian.